433 North Camden Drive, Suite 1128 - Beverly Hills, CA 90210 - (310) 205-0615, Fax (310) 275-3885
---
New International Journal of Choice Therapy and Reality Therapy featuring Dr. Brandi Roth
Choosing the Right School For Your Child
This book is currently out of print and unavailable for order.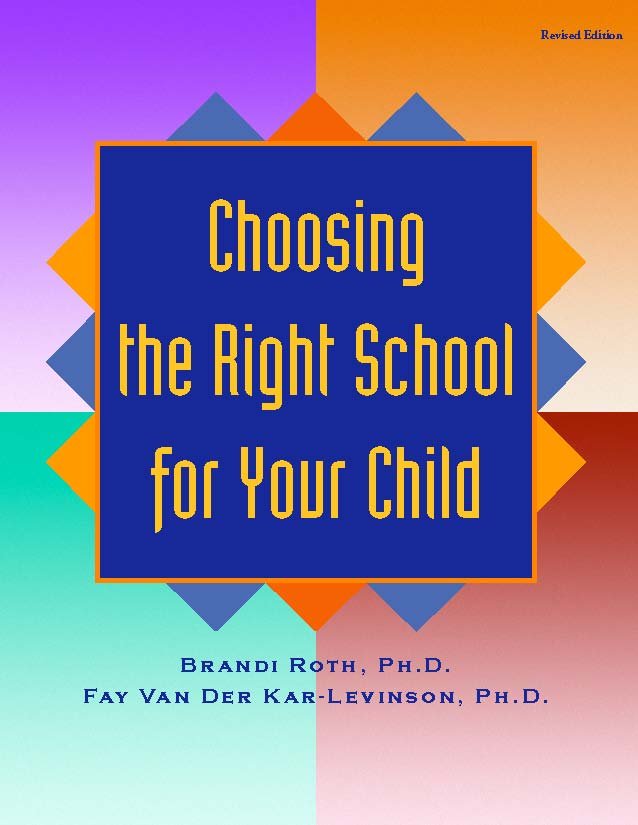 Brandi Roth, Ph.D and Fay Van Der Kar-Levinson, Ph.D are both psychologists and educators. Their book CHOOSING THE RIGHT SCHOOL FOR YOUR CHILD is a nation-wide guide and workbook for families selecting elementary, middle and secondary schools for their children.
CHOOSING THE RIGHT SCHOOL FOR YOUR CHILD is designed to help parents gain insight and information into their child's learning style and then to match this with the most appropriate school.
There are few other sources of information to guide parents through the school selection process. Dr. Roth and Dr Levinson wrote this book,

CHOOSING THE RIGHT SCHOOL FOR YOUR CHILD

 to answer this need.
CHAPTER HIGHLIGHTS




CHAPTER 1
Public or Private:
Choosing for Your Child

CHAPTER 2
Different Kind of Schools

CHAPTER 3
Learning About Your Child's
School Needs

CHAPTER 4
Evaluating the School

CHAPTER 5
Touring the School with Your
Evaluation Forms

CHAPTER 6
Preparing Your Child's Application

CHAPTER 7
The Interview

CHAPTER 8
The Agony and the Ecstacy:
Acceptance/Rejection

How do I know which schools are best suited to my child's educational and emotional needs?

How do I make my way through the maze of school tours, application and interviews?

What is the best type of school for my child?

How can my child get into our chosen school?

How can I tell which school is really the right one for my child?

If these are your questions,
CHOOSING THE RIGHT SCHOOL FOR YOUR CHILD
was written for you and your child.